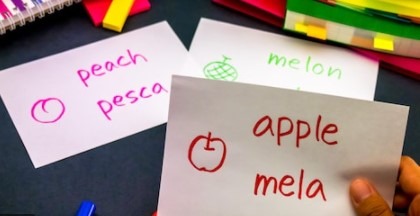 We work with many boarding schools and they all offer international students support to improve their English. Most educationalists agree that being able to communicate in a common language aids not only academic development and progress but with younger students, in particular, helps them to acquire social skills that are so important in those early years. Communications problems can be the key barrier to student integration so it is vital that the 27,000 international students studying at UK boarding schools get the help and support they need to fully settle into school life.
The kind of English language support provided for students varies and will depend on a child's age, the academic programme they are following and what school they are attending. Traditional UK boarding schools refer to English language teaching for international students as English as an Additional Language (EAL) or English as a Second Language (ESL). As teaching at most boarding schools is done in English, it is crucial that students gain a competent grasp of the English language quickly and it is important to find out as much as possible about what the school or college provides. We will work with you to access the support and help your child might need but here are some tips to look out for when considering the provision for English provided by schools.
Identify what costs are involved. Some schools charge extra for EAL teaching, but many now include at least some support in the basic school fees.
Find out from the school about the staff who teach additional English courses. Find out their qualifications and experience.
Speak to the school to explore how English as a second language is taught – in groups, individually, and what activities they provide.
See what else is provided to international students as support to help them settle into life at a UK boarding school. Some schools offer international students a mentor/tutor.
Investigate whether the school offers specific, longer-term programmes for international students.
Rossall School for example, offers students who still need to improve their English language skills a place on their special Fast-track international courses. Wycliffe offers language support from Year 3 (age 7) onwards which includes individual teaching support, an English language foundation programme and assistance with Cambridge ESOL Examination e.g. KET (Key English Test), PET (Preliminary English Test) and FCE (First Certificate English). Taunton School offers an alternative pathway to university: the combination of the Pre-Foundation Course and International Foundation Course which is a unique option for international students who may not be ready for A levels, IB or BTEC. The course is accredited by NCUK and prepares international students for study in business-related disciplines at the undergraduate level.
These are just a few examples of the kind of support and assistance available to international students. Do give us a call and speak to one of our consultants on +441702588225 who will be happy to guide and advise you by explaining the level of English that your child needs in order to study in the UK and advise you on the school that will best suit your child.