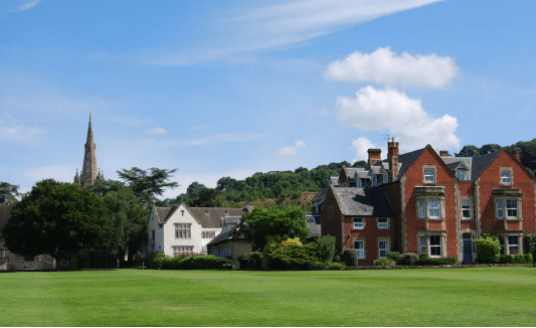 Wycliffe College has a warm and welcoming 'feel' that is palpable the moment you walk in through the gates, now enhanced by our truly exceptional, brand-new, £7M boarding house for boys and girls (ages 13-18). We are committed to keeping our class sizes small so our specialist and inspirational teachers get to know every individual child, their strengths and their needs.
This focus on the academic is augmented by outstanding pastoral care and a rich and diverse range of co-curricular activities which ensures each and every child can find something to stimulate them. Individuality is greatly valued. There really is something for everyone – borne out by our leavers' destinations which ranged from Oxford, Harvard and Imperial to Fashion in Milan, Finance in Canada and Hospitality Management in Switzerland.
In 2019 Wycliffe celebrated its best ever GCSE results with over 48% A*-A and one student achieving results which put her in the top 0.4% of all pupils nationally! Wycliffe provides an excellent boarding experience for international students, as academic lessons for years 9-11 and sports matches on a Saturday afternoon for all age groups ensures that the vast majority of boarders remain in school for the weekend. Boarders can stay in school during Exeat weekends and take advantage of organised trips to nearby towns and enjoy relaxing in the cosy and 'home from home' boarding houses.
Wycliffe is in the attractive county of Gloucestershire, set on a beautiful campus in an area that is very safe and secure. The campus is on two discrete sites (one for the Prep School and one for the Senior School which are about 2 minutes' drive apart). Therefore pupils can move easily and safely from boarding houses to classrooms to the gym and sports fields. Pupils leave Wycliffe as confident and articulate, but not arrogant, young men and women, appreciative of the education they have received and well prepared for the next stage of their lives.
The Development Year for 15-17 year olds – One Year GCSE and English preparation course is ideal for international students who wish to take A levels and need a year to help improve their English and take some GCSEs at the same time.
A levels cover 28 subjects including Extended Project Qualification (EPQ) which is an independent research project highly regarded by Universities. We also offer BTECs which are vocational-based courses in Digital Content, and Business and Sport. We provide SAT preparation classes for those looking to America for their Higher Education as well as Oxbridge preparation classes.
We are happy to welcome students for single terms if we have space in any boarding year group.