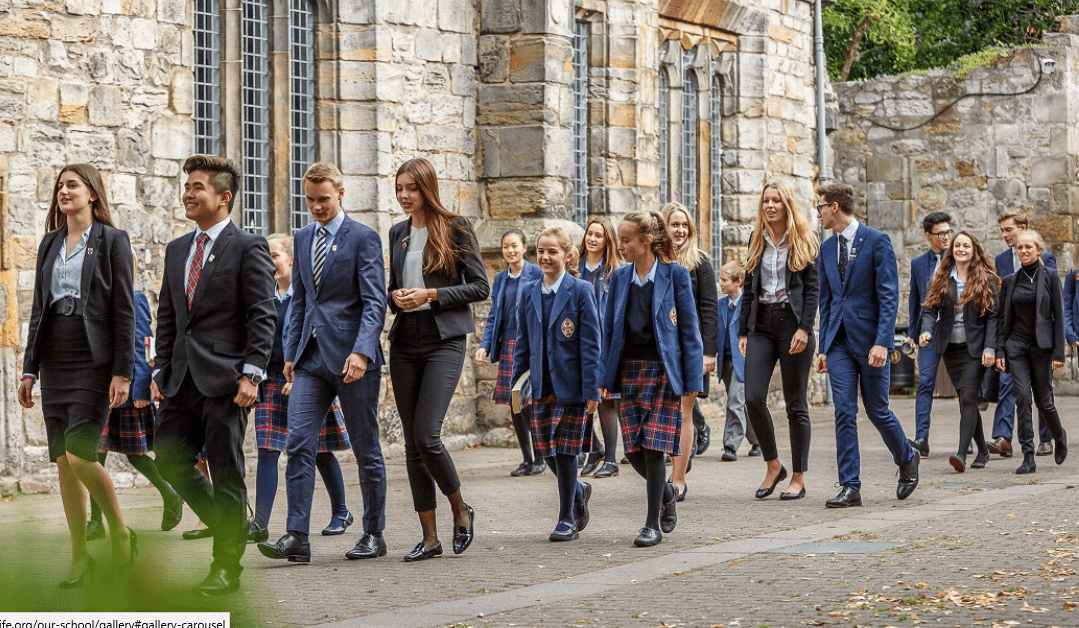 St Leonard's, Fife, is Scotland's leading independent school.  Situated in a beautiful campus in the inspiring university town of St Andrews, St Leonard's, Fife, is a forward-thinking boarding and day school for boys and girls aged 5-18.
Our aim is to provide an outstanding education, offering both academic and co-curricular opportunities for every pupil to excel, in an unrivalled location.  We inform and inspire, with learning at our heart, both inside and outside the classroom. We offer deeper learning, wider options and richer minds. St Leonard's, Fife, is the first school in Scotland to be accredited as an all-through IB school, delivering the globally recognised curriculum from Year 1 through to Year 13. It is a consistent and coherent learner journey, starting at age 5 with the excellent Primary Years Programme and culminating in the Diploma Programme in the Sixth Form.  It is an approach fit for the 21st century, internationally recognised, not hamstrung by the unnecessary narrowing of options at too early an age.  Learning really is for life and all its unpredictable twists and turns, and the style of learning exemplified by the IB embodies this far better than anything else. We are truly fortunate to have as our motto 'Ad Vitam', which we interpret as meaning 'for life'.  The boys and girls of St Leonard's, Fife, are being prepared 'for life' in its fullest sense; a life of challenges and opportunities. Founded in 1877, spanning almost 150 years of history, St Leonard's, Fife, continues to develop and progress, and this year has been no exception: we are immensely proud to have been named as Scotland's Independent School of the Year 2019, by the Sunday Times Schools Guide.
The Senior School offers boarding and day education for girls and boys aged 12-18. Students aged 12-14 benefit from our forward-thinking Middle Years curriculum in Years 7 (Junior School) 8 and 9 (Senior School), which is designed to allow a seamless transition as part of the overall learner journey, maximising the potential of each and every student. We teach our students to work effectively, communicate articulately, respect others and participate with purpose. In Years 10 and 11, students take GCSEs and IGCSEs, choosing from almost 20 subjects, including the chance to study the three separate sciences, French, German or Spanish and Latin as well as a range of creative options. A one-year course (also including GCSEs and IGCSEs) and known as the 'Pre-IB' is available as a means of preparation for the International Baccalaureate Diploma and is popular with students moving from the Scottish state school system as well as international students.
The International Baccalaureate (IB) provides a broad-based school leavers' qualification which is recognised worldwide by universities and employers. As an alternative to A Levels, IB Diploma Programme students study six courses in the Sixth Form, three at a higher level and three at a standard level over two years. This ensures not only a breadth of experience in languages, social studies, the experimental sciences and mathematics but the opportunity to specialise in key subjects as required, keeping their options open. In addition, the programme has three core requirements: a research-based Extended Essay; a Theory of Knowledge course designed to encourage each student to reflect on the nature of knowledge, and CAS (creativity, activity and service), which requires that students actively learn from the experience of doing real tasks beyond the classroom. The Pearson BTEC in Business and in Sport is available for students in the Sixth Form who do not wish to study for the full IB Diploma. This option, which combines eight units of BTEC study with two or three IB courses, serves as good preparation for either university, college or the world of work.