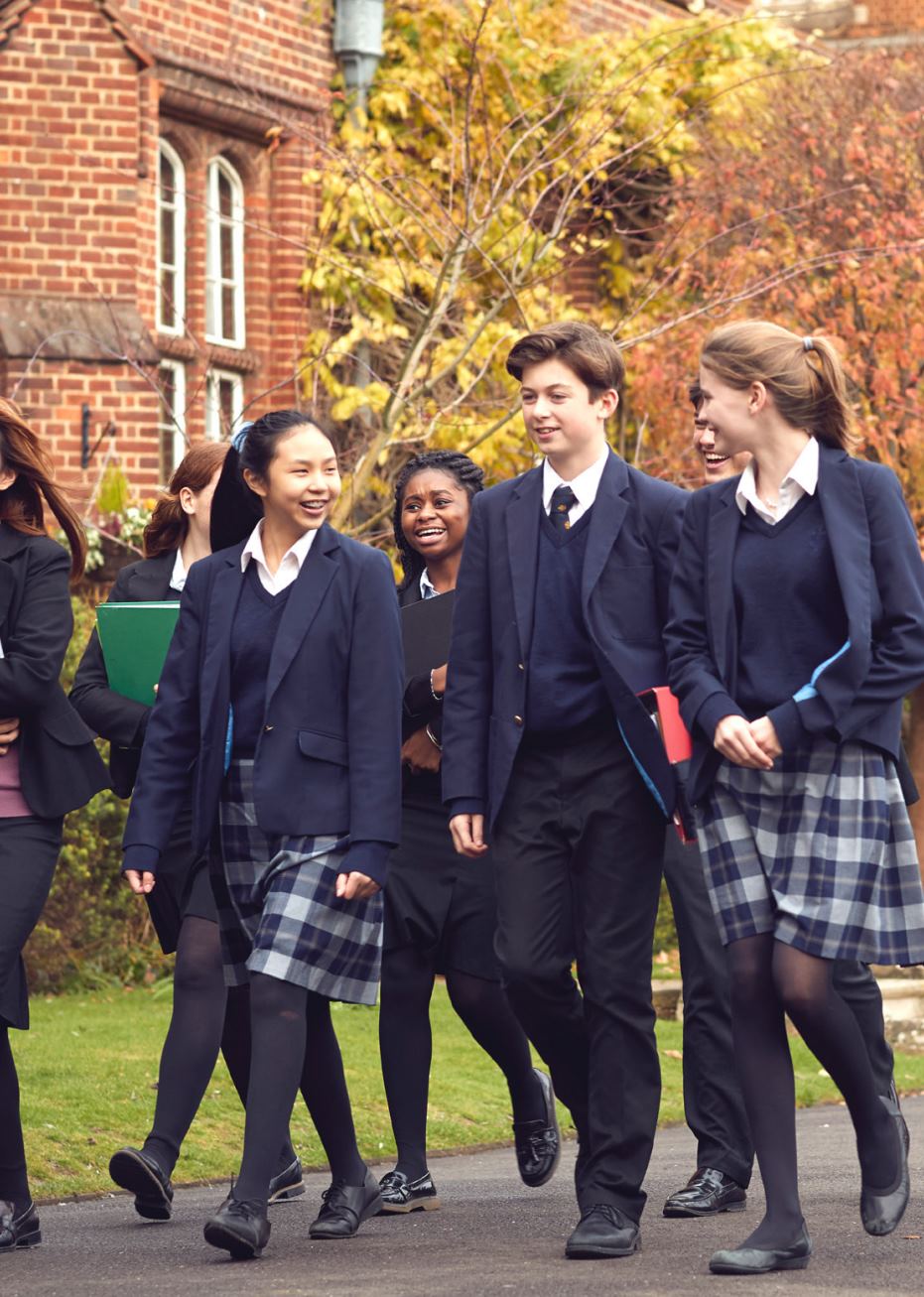 A Fizzing Community with Academic Excellence
Underlying everything at St Edward's School, Oxford, is our mission to prepare our pupils for the rest of their lives by encouraging their passions and talents, enabling them to discover new ones and supporting them to achieve their own potential. Our community fizzes with diverse interests and enthusiasms, while our academic excellence means 90% of our top pupils gain the highest grades in their Sixth Form exams and take up places at the world's best universities – a record which exceeds the outcomes of many highly selective schools. We are one of a few schools to offer both IB and A-Level alongside each other at Sixth Form, and in our Middle School Program, we have introduced new courses to stretch our candidates at GCSE level, responding directly to the very latest research into how young people learn.
Down to Earth, Co-educational and Inclusive
St Edward's School, Oxford, is a fully co-educational boarding and day school, with a wide range of pupils from around the country and 15% joining us from 40 different countries outside the UK. We offer a wide range of scholarships and bursaries. Being co-ed is important to us. Not only does it represent life beyond the school gates, but we feel it contributes to the inclusive and friendly community that brings our pupils, parents, Governors, staff, and the local community together. We reinforce this by enabling pupils to volunteer regularly in the community of north Oxford.
Excellent Facilities
We are very lucky to occupy such a large space in the north of the city of Oxford, where our extensive sports grounds and facilities surround an attractive Victorian red brick quad. Later this year we conclude a dynamic development project – to underpin the many ways in which we encourage our pupils to learn. The new study centre will bring pupils together in a modern library, an elegant and inspiring top-floor reading room and flexible learning spaces and a cafe, designed to facilitate large or small groups, in quiet study or robust discussion.
An Independent Arts Centre on School Grounds, and a Thriving Music School
The North Wall Arts Centre is owned and run by Teddies, and sits on school grounds, but runs its own programme of public theatre and exhibitions. It's a nexus of creativity, and our pupils are able to perform at the centre and be inspired by the varied programme of visiting shows. Parents and pupils are able to enjoy the space together. Music plays a huge part in Teddie's life and centres on the Ogston Music School, with its practice rooms, large recital room, and recording studio. Our two Chapel Choirs, Symphony Orchestra and Concert Band are encouraged alongside more alternative rock and jazz outfits.
City-Based
St Edward's School, Oxford, are one of the very few boarding schools in the country to sit in a city. Oxford is both beautiful and lively, offering the best of culture and creativity in the arts and music scene. It is of course host to one of the most prestigious universities in the world – an ever-inspiring neighbour. Our pupils love the nearby suburb of Summertown, where they can pop to the shops, or grab a hot chocolate in one of the many cafés. The city offers a sense of freedom and potential that grows as they do.
Teddies in Numbers
Our community of children is aged 13 — 18
85% are boarders and 15% day pupils
60% are boys and 40% girls.
We are joined annually by pupils from some 60 different Prep Schools.
Overseas pupils make 15% of the school population and come from over 40 countries.
There are 13 Houses for both boarding and day pupils, five for girls and seven for boys, and our emerging co-ed House, Cooper Lodge.
Each established House contains around 60 pupils from all year groups.