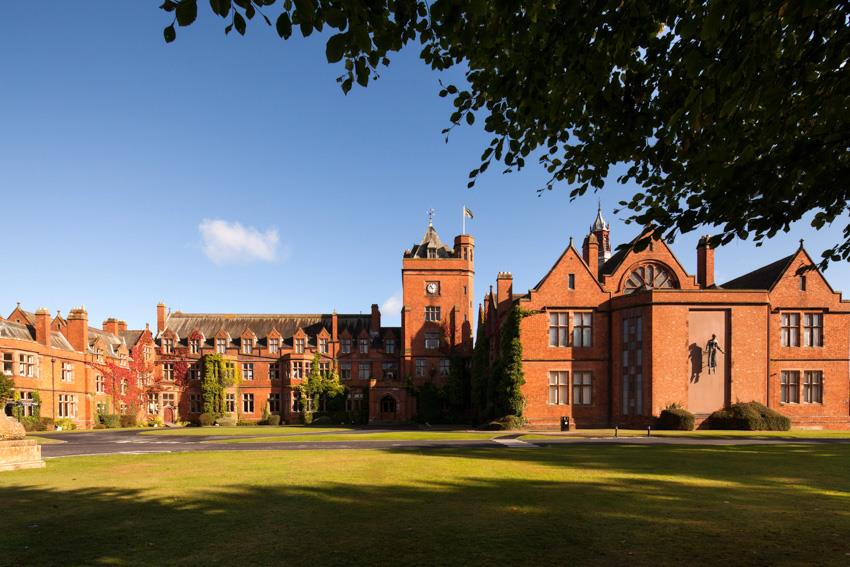 Campbell College first opened its doors in 1894 thanks to philanthropist Henry James Campbell and has been educating boys from all over the world ever since.  The stunning 100-acre woodland campus sits on the edge of Belfast and the original redbrick Victorian building remains a striking centrepiece of the College today.  Home to over 1200 boys aged 3-18,  the College has added state of the art facilities throughout its existence but the ethos remains true to the intentions of its founder.  Respect, service and leadership.
With a Junior School, Senior School and a thriving international Boarding department the College represents one of the leading Boarding and Day Schools on the Island of Ireland.
The motto "Ne Obliviscaris" is born out of a history of leadership and service reflected particularly during the two world wars and our Royal Charter status was presented in 1951 in honour of those we lost. The diverse list of alumni is a reflection of a College that truly celebrates the individual and that heritage is celebrated by Campbellians, old and new, across the world.
Campbell College is committed to providing an education designed to enable all boys to discover their strengths, and to make the most out of their talents within Campbell and beyond.  When they see a student, they do not see a grade or a label; they see an individual, with potential, and feel it is their duty to add value by helping them achieve academic success and appreciate the joy of learning.
The School believe education is a holistic experience that should celebrate the creative, physical and spiritual as well as the intellectual. They want boys to leave the school with an assured set of values, they want them to believe they can truly make a difference in society; they want boys to leave with things that are going to matter to them for the rest of their lives.
Boarding at Campbell College
Throughout its history, Boarding has been a central part of Campbell College. With such a diverse student body, the Boarders are able to share their cultures and ethos with their peers, which in turn enhances their learning experiences, whilst building lasting friendships that could see them travel the world over.
Education is not just taught in a classroom and Boarding provides students with a holistic education, where they can develop their personalities and learn from one another in a secure all-inclusive community. Students thrive in an environment which is structured and disciplined, and as long as the students see that there is an openness and fairness, they are happy. There have been two major developments of the boarding facilities recently and Campbell College now boasts state-of-the-art Boarding accommodation including 47 ensuite rooms for senior boarders. The planned next phase will extend this boarding to a capacity of 200+. The staff within the Boarding department has collectively worked hard to increase nationalities and welcome new cultures which I hope and trust will continue.