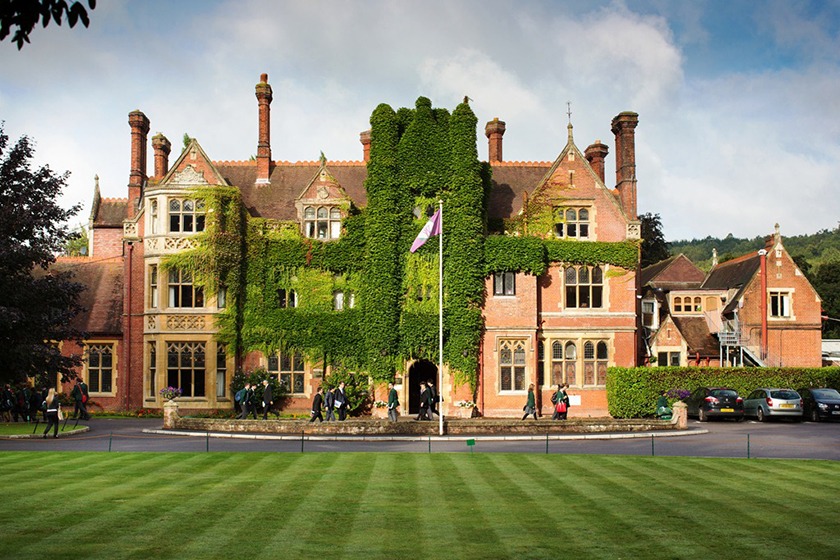 Box Hill School is a friendly co-educational school for boarding and day students aged 11-18 set in beautiful grounds in leafy Surrey and only forty minutes from central London. As a Round Square school, Box Hill School believe in developing the whole student, enabling them to achieve both inside and outside of the classroom. By surrounding the core of academic study with a range of activities, sports and expeditions, Box Hill School draw out talents and abilities and unlock potential. Box Hill School pride themselves in being a smaller school with a nurturing environment, as it allows them to give each student high levels of attention in class and exceptional pastoral care for which they are rightly renowned. The international aspect of the school is important to the Round Square approach and sets Box Hill School apart from other schools.  Parents recognise the benefits to their children of mixing with other cultures; opening their eyes to a wider world.
Box Hill School students emerge as well educated, well rounded and tolerant students excited and ready for the challenges of university and the world beyond. Through Box Hill School's differentiated teaching and exceptional pastoral guidance comes academic success for their students. The difference in their approach, however, comes from their determination and passion to develop the whole person and unearth qualities in their students that they did not know they possessed.
Students amaze themselves when they see what they are capable of achieving and at Box Hill School you watch them grow in confidence. Academic success at GCSE, A-Level and in the International Baccalaureate Diploma are the product of what they do and the added value academically we achieve for the students is key. Additionally, Box Hill School produce well-adjusted, tolerant and confident young people with a sense of pride in themselves who are ready to greet the world with energy and enthusiasm.
Boarding at Box Hill School
Boarding houses at the school are set up to be an extension of home life and are comfortable and well equipped. Dedicated residential House Parents are experienced and expertly versed in the needs of the children in their care. They work in tandem with Tutors and academic colleagues to create an environment that is conducive to both academic and personal development.
With extensive grounds of 40 acres, boarders can relax and enjoy the facilities including the recently opened multi-purpose Sports Centre, Music School, Dance studio, High Ropes Course, Climbing Wall and many outdoor areas to exercise, play a sport or simply take a walk during their free time. Weekly boarders can take advantage of the huge raft of extra-curricular activities on offer. In the evening, there is no shortage of opportunities to enjoy during their downtime – Zumba, badminton, table tennis, basketball and the Art Club. House Parents also regularly organise activities for their boarders. Cinema and bowling trips and meals out to local restaurants are firm favourites as well as the many other social activities arranged within the Houses such as pizza nights, quizzes and games nights.